Where the money goes......
Where the money goes......
Family Makes A Difference
Story thanks to Claire Harrison Nuneaton News
A LEADING medic from Great Olmond Street Hospital say they are 'indebted' to a Fantastic Nuneaton family for their dedication to help find a cure for a rare skin condition.
Professor John Harper, professor of Paediatric Dematology at Great Ormond Street Hospital for Children (GOSH) and University College London (Institute of Child Health), told the Nuneaton News that without the funds and awareness raised by Danny and Julie Oldcares he and his team would not have made such a giant leap towards helping sufferers of Netherton Syndrome.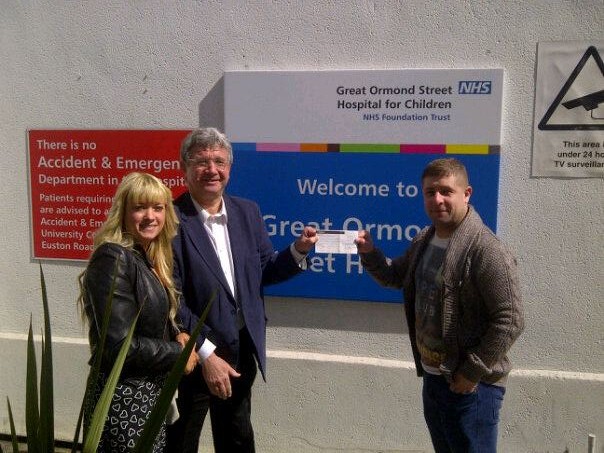 It is the heart-breaking first-hand knowledge of the daily devastation suffered by those with the condition that has driven the couple as their beloved son, Jack, was born with it.
Despite the painful condition, which causes skin to repeatedly tear, little Jack always wears a huge smile on his face and it is his bravery that inspired Danny and Julie to raise funds to help find a cure.
Aided by an army of family, friends and supporters, the Oldacres from Stockingford have raised more than £20,000 and it is this huge amount of funding that has helped Professor Harper and his team to make their biggest break-through yet.
Later in the year, clinical trials will begin on adult sufferers of Netherton Syndrome and Professor Harper admits this would not have been made possible without the help of the Oldacres.
"They have been absolute stars in terms of the funds they have raised but also making people aware of Netherton Syndrome in such a remarkable way," the Professor said.
"I am very grateful from a personal point of view but also, on behalf of Great Ormond Street Hospital and the Institute of Child Heath. The future is very exciting, we hope to start clinical trials at the end of the year."
He went on: "These are significant advancements and while we are in the very early stages, it is very exciting and all of the funds raised by Danny and Julie have played a huge part in the support that we need to carry out the research.
"It is all so promising and we are so grateful to Danny and Julie, their friends, family and supporters." He concluded: "We are indebted to everyone one of them for their help."
Keen not to take the credit offered by the professor, Mr Oldacres said they would not have been able to achieve what they have achieved without the support given from their hometown; from close family and friends to local businesses and even total strangers.
"The support we have received has been overwhelming," the Royal Mail manager said."We would like to say a huge thank you to everyone who has supported us over the past few years." But the determined couple will not stop until a cure is found and luckily many people are behind them: "We are still fundraising, and people are still being so kind raising funds on behalf of Jack," he said. In fact, when Danny and Julie took the trip down to London to meet Professor Harper, they did so with a cheque from Nuneaton Sheltered Housing and the offers of funds continue to roll in.
"Someone is doing a sky dive for us in the coming months, and I am looking to organise another football match, among many other things," he said.
Massive news for Nethertons Syndrome as cheque is handed over to the Doctors
A NATIONWIDE fund into the research of a rare skin condition has been set-up in the name of a Nuneaton youngster.
Danny and Julie Oldacres could not be more proud or grateful after finally achieving their dream - of ensuring that the condition suffered by their son, Jack, is officially recognised and researched.
It was 18 months ago when the couple from Stockingford starting their mission to raise funds into research of Netherton syndrome, the painful skin condition that the three-year-old has suffered from since birth.
They joined forces with the Ichthyosis Support Group, which looks into the research of many skin conditions, to launch their appeal.
With the help of an army of volunteers and supporters, plus many acts of kindness and generosity, the pair were able to hand over a cheque for just under £15,000 to the University College London, which is closely associated to Great Ormond Street Hospital.
If that was not achievement enough, the couple, who travelled down to the capital with Jack, were told that a dedicated fund will now be set up specifically for research into Nethertons.
"This is something we have forced them to do , Nethertons wasn't recognised before and thanks to all of the hard work of not just ourselves, but all the many people who have supported us, we have done this," Danny said.
"We have fought so hard for the last 18 months, people have seen us in the papers week in, week out, but this has been the driving force behind everything we have done to get a fund set-up specifically for Netherton research, now there is one at the University College London.
"This will help families across the country who have children with Nethertons."
Following their trip to the college, which included a tour of the laboratories, the couple were keen to express their thanks to everyone who has helped their cause over the past year and a half.
"We are so proud, all of the hard work has paid off but we could not have done this without the fantastic support we have had from the people of the town, the £14,220.58p is all done to them," the Royal Mail manager added.
"When we first started this, we hoped to get a fund especially for Netherton but we never thought we would do it so quickly, and again, we couldn't have done this without the support we have had, it has been overwhelming. We could not have done this without them and we are so grateful.
But the family are determined to carry on: "Because Nethertons is so rare, we need to keep fundraising into the research and raising its profile," Danny added.
"We have come so far but we have got to carry on, and we hope that people will continue to support us."
In fact, the next fundraiser will be a ladies zumbathon at Velvet nightclub in Nuneaton town centre on Wednesday, December 7