Money Raising Events Part 2
Coast to coast bike ride challenge 2011
Danny and his fellow workers at the royal mail made the long trek from the west side of the country to the east in 2 days to raise money for research into netherton's.
Danny, Mick Thompson, John Robinson, Steve Lafferty and John Hamm decided at the start of this year that they would do a bike ride for the charity, after long hard training sessions the ride finally arrived and they all set off in good spirits. At the end of the 1st day they were slightly behind target but all in one piece!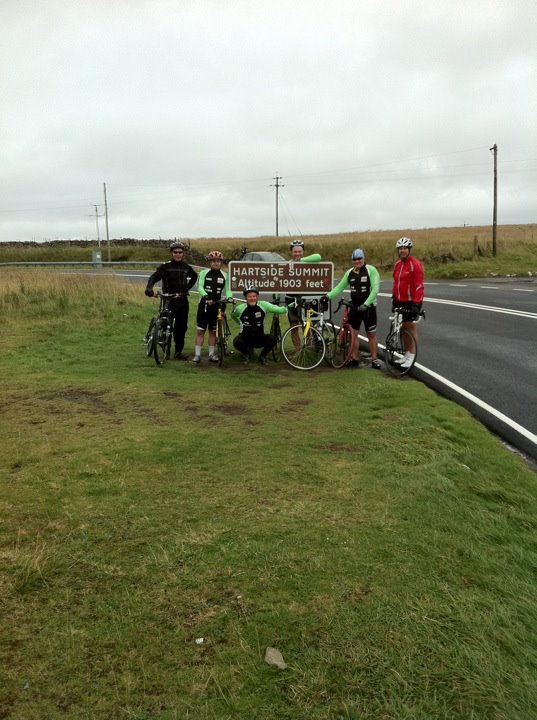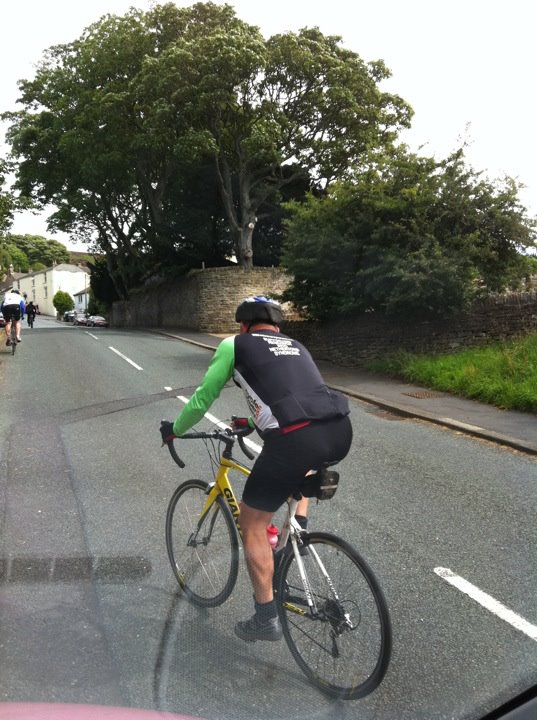 Batteries recharged over night saw the royal mail crew set off to make the last leg of their journey and arrive at the finishline on time. With some big climbs through the countryside the lads really did themselves proud and made light work of the last 70miles to reach sunderland and the waiting fans.......
Well done to all involved behind the scenes, Sporting Touch and Gavin Crockwell for there kind donations for clothing, also cycle premier (Ibstock) who supplied some energy gels and drinks to keep them going and not forgetting Kev Gill and Jamie Clark and danny's mum in the lead car... total amount raised still not in yet but will update you when we have the final figure.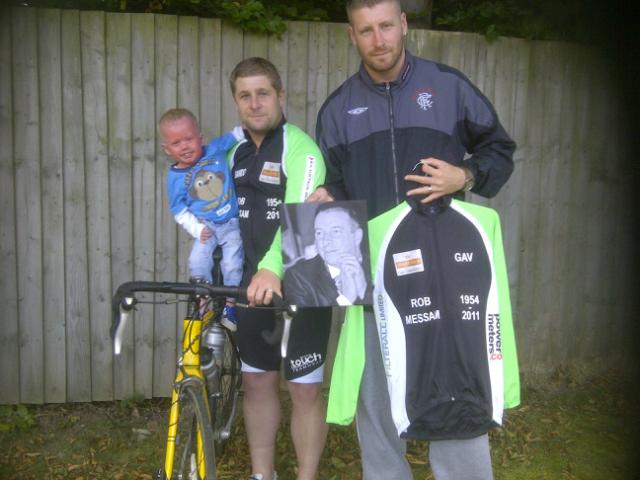 Above: Jack, Danny and Gav with the cycling gear bought with a donation from Gav in memory of his dad Rob who passed away earlier this year.
Top right: the boys at the finishing point in sunderland
Bottom right: Danny and Jack at Cyclepremier in ibstock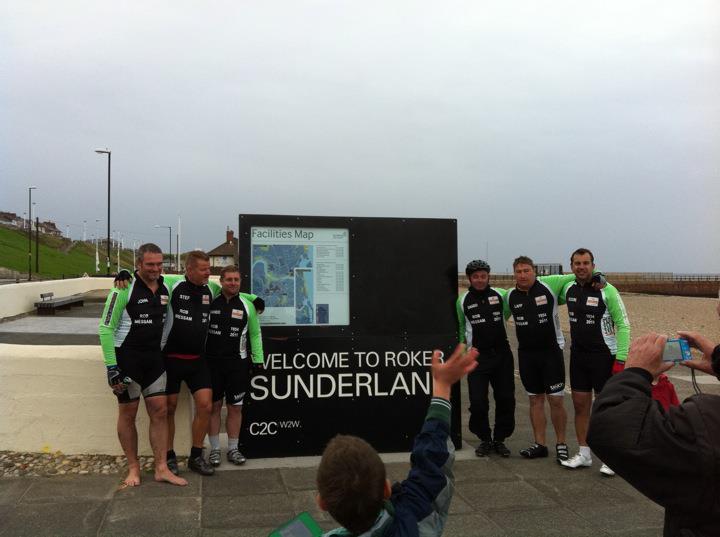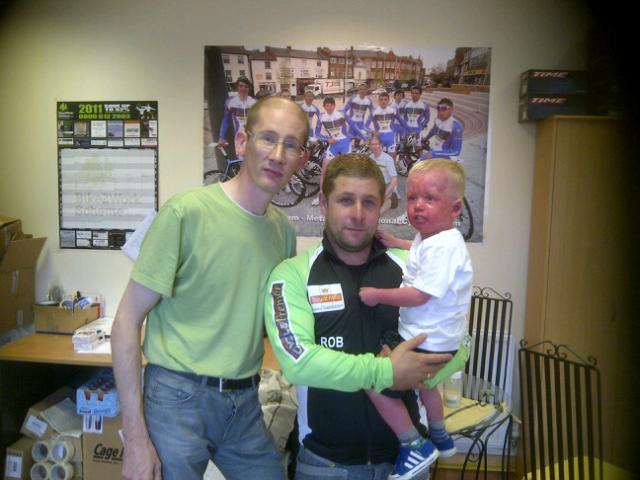 Nuneaton Carnival 12th June 2011- Netherton's Awareness Walk
Compared to last year the weather was a little different. This time last year we were baking hot and were struggling to keep hydrated, this time the raining was keeping everyone well and truely wet. This didnt stop a load of brave souls going out with banners and cards, passing on the message about Jack's condition. Every one in the Carnival was determined to have a good time and not let the weather spoil the day and in normal Nuneaton style the show went on and it was a well suppported day. Thanks to everyone who came along, hopefully this walk means a few more people will understand Netherton's Syndrome and will pass the message on to other's that this condition is for life and the support of the community will help Jack for many years to come.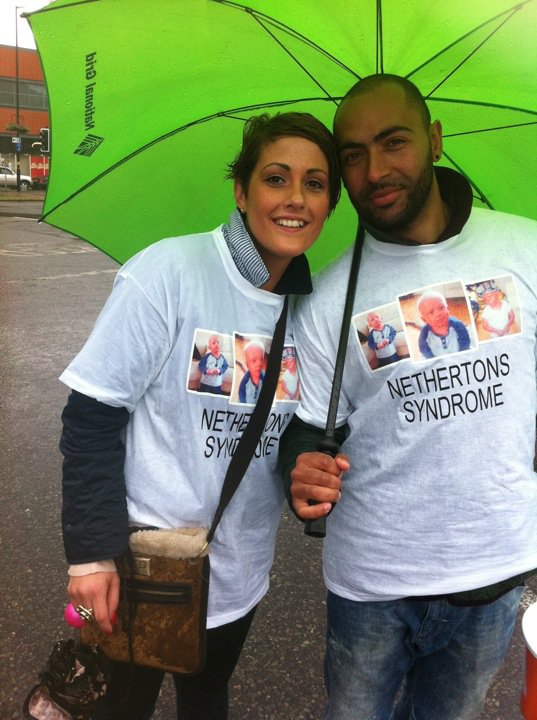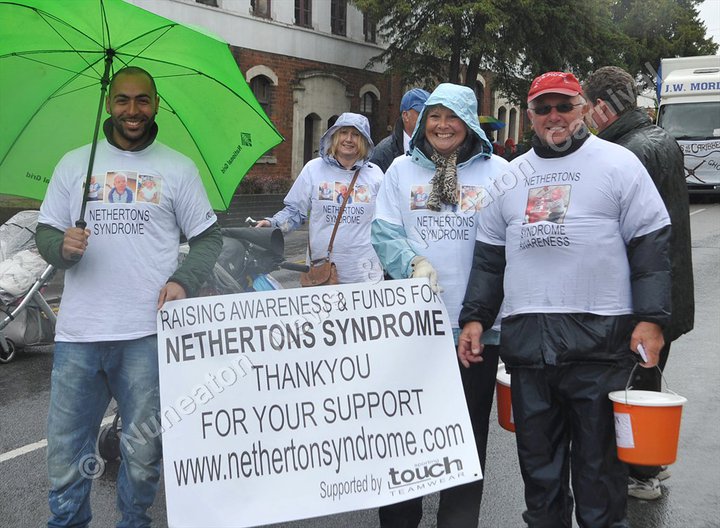 A year on from our first ever charity outting and the Netherton team wanted to say thank you to all the people who have supported them, either stopping them in town and having a chat with Danny, Julie and Jack or coming to any event that have been organised. A year has gone so fast and so much has happened its so hard to keep up with it. Danny thought it would be nice to have banners and they were kindly printed and supplied by SPORTING TOUCH in Nuneaton (Thanks Mark and team). Midland Sign and Lighting Ltd again donated money towards the T-shirts that everyone had on.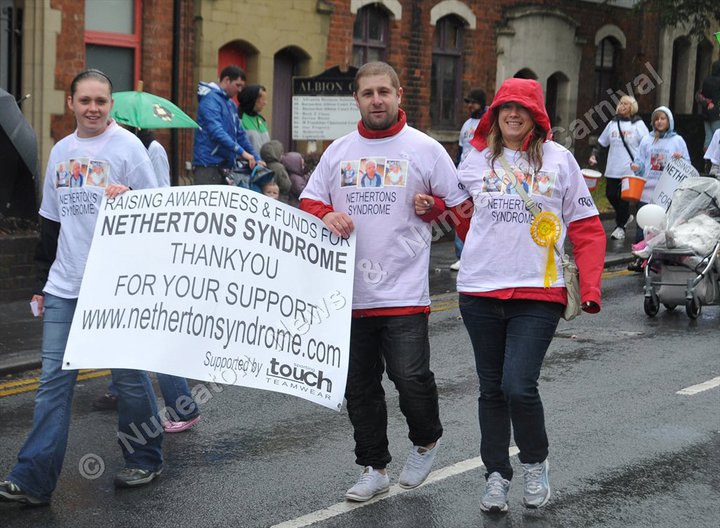 Skydive part 1 - and everyone is safe!
Sunday 17th April saw the first part of the much delayed skydive, I wasnt able to go due to commitments. The weather was spot on so everyone got to jump this time. Ive put some of the brilliant photo's of the skydive to prove they did it. The second bunch of daredevils will be jumping on the 8th May and the total amount raised will be posted on here as soon as its in. The brave soles that jumped in part one were Danny Oldacres, Gloria Oldacres, Nick Fessi, Scott Windridge, Michelle Soen, Leigh Thompson, David hammersley, daz Hodge and Jamie Marriott.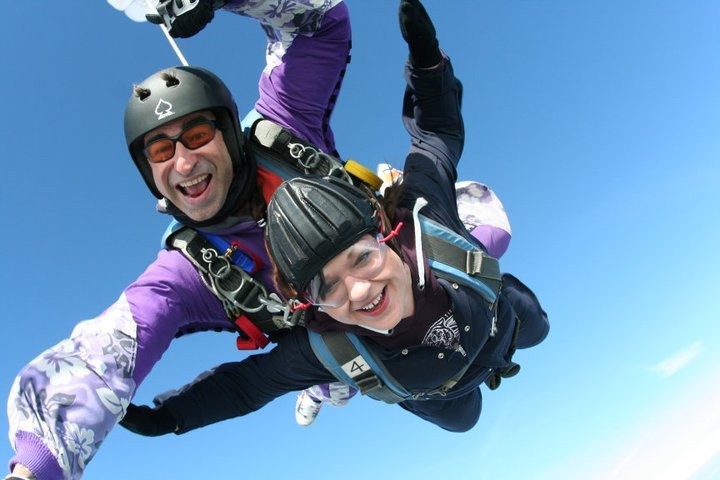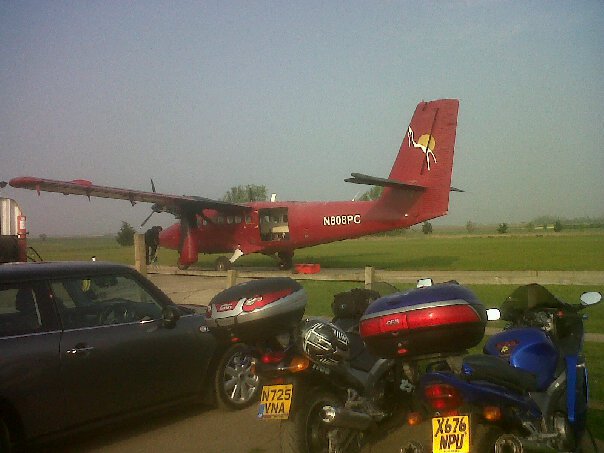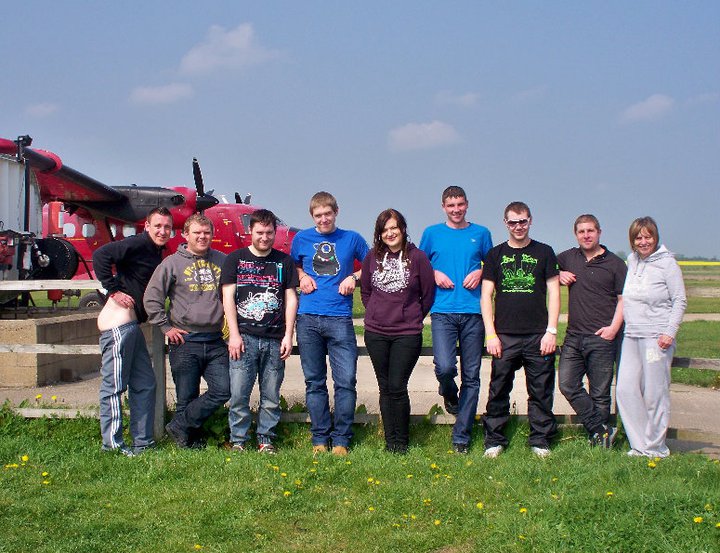 All the crew doing the skydive on the second/3rd attempt left ot right.
Scott Windridge (nice ass), Nick Fessi, Leigh Thompson, David Hammersley, Michelle Soen, Darren Hodge, Jamie Marriott, Danny Oldacres, Gloria
Everyone I hear enjoyed their jumps and raised loads of money for Netherton's Research. A Big THANK YOU to you all! Now just part 2 and we are done.
Royal Mail 5 - 0 MacFarlanes
Oldacres shines in a right Royal victory!
Danny Oldacres scored twice as Royal Mail kicked off what we hope will become a regular charity match for Netherton Syndrome Awareness. The other goals came from Danny Armiger(2) and Mikey MacFarlane.
Thanks to everyone who turned up to help raise just over £400 towards Netherton Syndrome research. A special thanks to the Attleborough Potters FC who donated £50 from their club thanks!!
The weather was spot on, everyone could enjoy a drink and a game of football in the sun and it didnt take long for Oldacres to get his name on the score sheet lobbing the goalkeeper from just inside the box after some neat build up work from the Royal Mail midfield. The game flowed from end to end with some good football played by both sides. That was until the introduction of Jason Saliba who nearly let in the Macfarlanes forward with a weak back pass that left the keeper exposed but the forward couldnt make use of the opening. Just a few minutes later it was 2 and Oldacres finished off a nice flick on from Dave Burton to pass the ball into the far corner. Just before half time Danny Armiger got a goal his work rate deserved with a finsh from a tight angle into the bottom right corner. H-T 3-0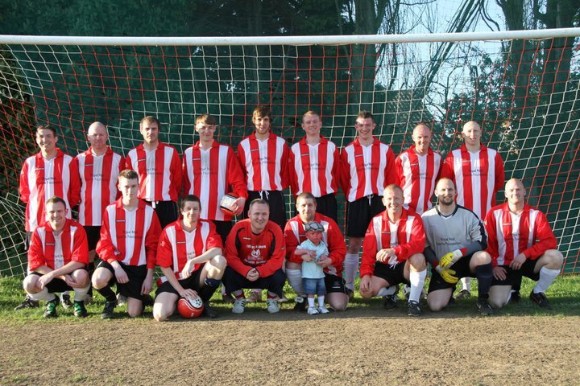 Second half and Macfarlanes were out to change the result and tried to break the down the back 4 of Royal Mail but they stood firm not giving them many chances to pull the trigger. The killer goal came midway through the half with a fine finish from Mikey Macfarlane slicing a fine half volley into the top corner of the net from the edge of the box. 10 minutes from the end it looked like MacFarlanes would finally break through as a jinking run ended with a one on one with the keeper the MOM dropped his shoulder rounded the keeper steady himself and only seen his shot cleared off the line by a Royal Mail defender. Last minute of the game saw Armiger grab his second and finish off the match.
Kev Gill picked up the Jack Oldacres Trophy and the bragging rights untill the next installment. Thanks everyone who came along to support, and to Stockingford AA for the use of the pitch. Also to C G and Noble conservatories for their sponsorship of the event! Kev Gill and Kev Muggleton for knocked heads together to arrange the match.
Barwell FC (Netherton Awareness) Dinner with Ronnie Whelan
Jimmy Ginnelly and Barwell FC hosted a Netherton Syndrome Awareness night at the Attleborough Liberal Club and the night which everyone enjoyed helping to raise awareness of little Jack's condition. Ronnie Whelan was the guest speaker on the night re-living his times at Liverpool and taking question on his experiences along with an auction at the end of the night.
LDJ Solicitors Christmas card donation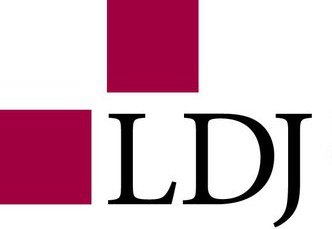 Everyone at LDJ Solicitors also had a Christmas card donation idea and raised a great amount by not buying cards. They managed to raise £000 towards Netherton Research and the money was sent off to the Ichthyyosis Support Group.
A big THANKS to everyone who helped to raise the money and a special mention to Paul Edgington who put forward the Netherton's Group as the chosen charity this year
THANKS Paul!!!!!
KO Photography competition!
Katherine Orton ran a competition in the ropewalk on the 5th March to find the face of
KO photography
. the winner will get £1000 worth of prizes, also anyone who turns up gets a free photo sitting and photo. T
he competition turned to facebook for the public to decide who they want to vote for and they turned out in there hundreds.
Its currently down to the top 5 with a follow up visit to the studio to see the little ones in action in front of the camera. Katerine decided that a percentage of the sales from the day would go towards the research into Nethertons and a BIG BIG THANKS to her for this kind offer. Will keep you all upto date with the winner as it comes in.

Go and check out the facebook page for more detail or visit the website
3 Aces Scooter Club charity night is a NORTHERN SOUL hit!!!!
Paul and Rachel Goddard who are part of the 3 Aces scooter club really went to town to get a night that people would remember and all their hard work paid it was a special night of fundraising and partying all mixed in together!!!
They raised an amazing figure for Netherton Syndrome Research wait for it........£2503
I really enjoyed the night (northern soul dancing is amazing to watch). It was kicked off with DJ Marshmellow spinning the decks with some classic songs to get people in the mood. A little break for the raffle only to be blown away by The Universal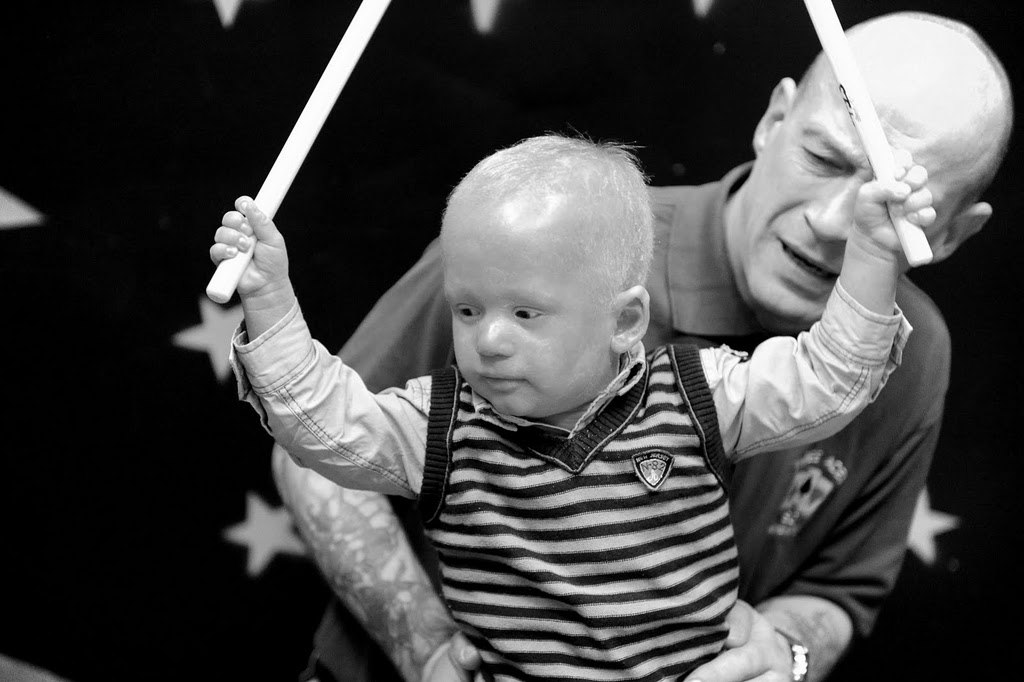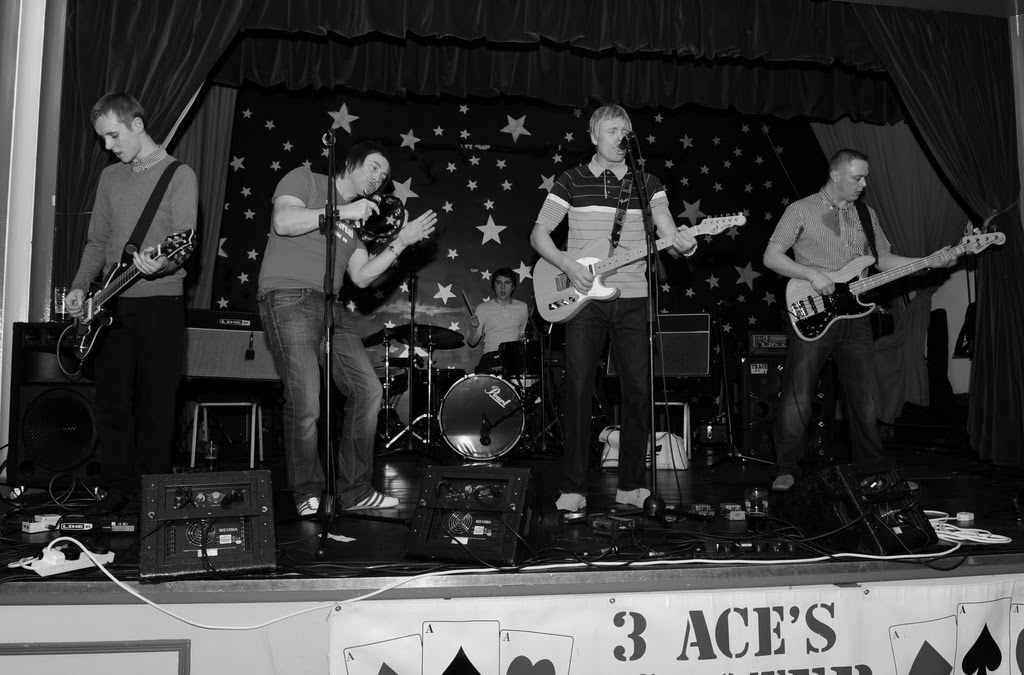 Jack and Paul on the drums. The Universal in full flow.
Followed by another local band Prittygreen. Thanks to you all for putting on a great show!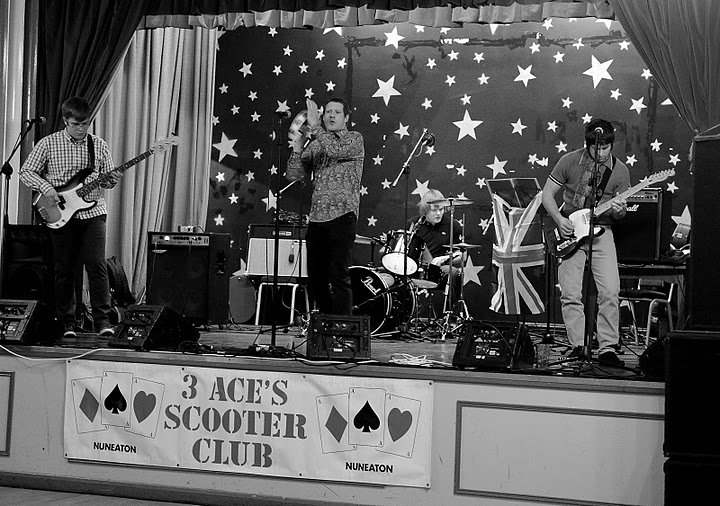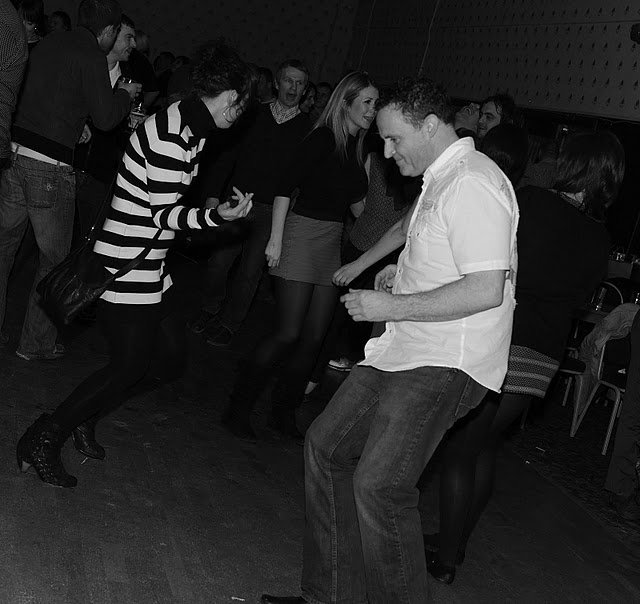 Prittygreen in action at the 3 Aces Scooter club bash . party goers giving it some northern soul moves
A special thank you to Mad Boris PA Systems (07968581981) aswell, I dont think the night would have been the same with his MASSIVE SPEAKERS. John Coles for the use of his photo's, for more of the night click on John's name
Thanks to everyone who came and made the night special and raised so much money towards research into Netherton Syndrome
Inspiration hair and beauty salon's fun day and charity night is INSPIRED!!!!!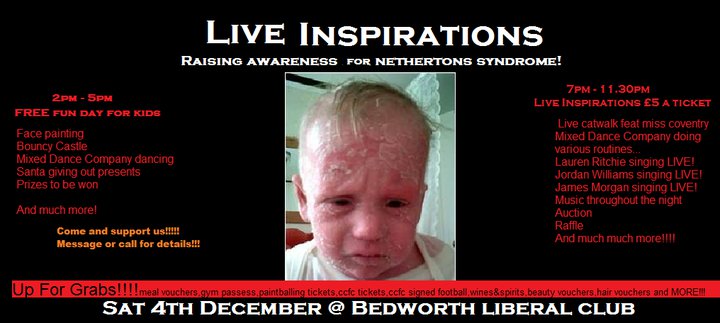 Our total for the 2 events is £1,103.10
Inspirations is really glad that we have broken the £1000 barrier and have all worked really hard.
Our Thanks go to -
The Bedworth Liberal club, who donated the room, day and night at no charge,Protus print – 02476 645400 - Bayton Road, The mixed dance company – Sarah Skinner – 07957398263 - who arranged all the dance acts in the day, as well as synergy gymnastics. She also arranged the all stars street dancers who performed at the night event.
Debbie at Bubblious in Bulkington 07984435031 (balloon, party planning and old fashioned sweet shop),The notables band 07747002042 – Dave,Jordan Williams, supporting act called Jordan (female), Lauren Ritchie,Billie Hoey (only 15 years old), Catwalk girls (Alice Fuarnival – Billie Hoey – Lauren Ritchie – Annaleice Rowlson – Natalie Evans – Kirstie Logan (current Miss Coventry),The Cup Cake Company in Nuneaton 07957 157771 Taz, Nuneaton bouncy castles – Mick - 07765864723
Other Companies and people that donated prises and gifts-
CCFC Birmingham City football club, Coventry blaze, Coventry rugby club, Nuneaton town football club, Splat paintball, Fancy dress shop Bedworth, Village chip shop Bulkington,Heath end chip shop Bedworth, Poppy's flower shop Bedworth, Bull and anchor Coventry, La Tavola calda Nuneaton, Weatherspoons Bedworth, Sandwich shop Bedworth, Cheers wines Bedworth, Cake shop Bedworth, LDJ solicitors Nuneaton Gail King - Nuneaton, Carpet kingdom Coventry, Sarah Cronin – Forever living aloe Vera products – 079040489593, C and C tyres and exhausts Bedworth, Card factory – Bedworth
Bob Harrington Harrington travel – we have been given a coach for the day, we will arrange a trip to Alton towers in the spring, arranged from the salon and charge for a return journey.
Michelle Bramley – the manager at Inspirations Beauty auctioned off all her staff for individual hour treatments and raised over £200!!!! She also provided all the girls on catwalk with spray-tans and did all the make-ups on the day. She also donated various treatments for the raffle. She provided us with a member of her staff for the day event between 2-5pm, who did charity waxes and nail-art for free on the day. Michelle has been so generous, with out her help and contribution I would never have been able to organise the whole event.
I own Inspirations Boutique and Hair and put in so much work and time in to the event but it was such a worth while cause. Along with Inspirations Beauty's help. (We run as 2 shops in one as we are an open arch way between our shops – we are a dominantly family run business)
Special Thanks to Lissie Davis who is the hairdresser at Inspirations Boutique, who helped with all the organisation off both of the events. Lissie also donated a wash cut and blow dry and did various things to help pull the event together. (Lissie was also up for Auction!!) we all worked as a team and she was a star!!

Jack is really a lovely little boy who is so much fun to be around, seeing him with his family and friends has showed us how much joy this special little boy brings to so many people.
Jack has inspired us all!
Thanks again to everyone involved,
Danielle Cronin and all the girls at Inspirations x
Inspirations Beauty, Boutique and Hair.
Jugsters MCC hand over of cheque for Jack at the kingswood tavern
Pit and all her friends from Jugsters MCC met up again at the kingswood tavern to hand over the money raised from the Chairty night for Jack. Pit organised the night because they want to give Jack the best possible life and having seen first hand what it takes for jack to live a "normal" life this went along way to helping the family do that!!!!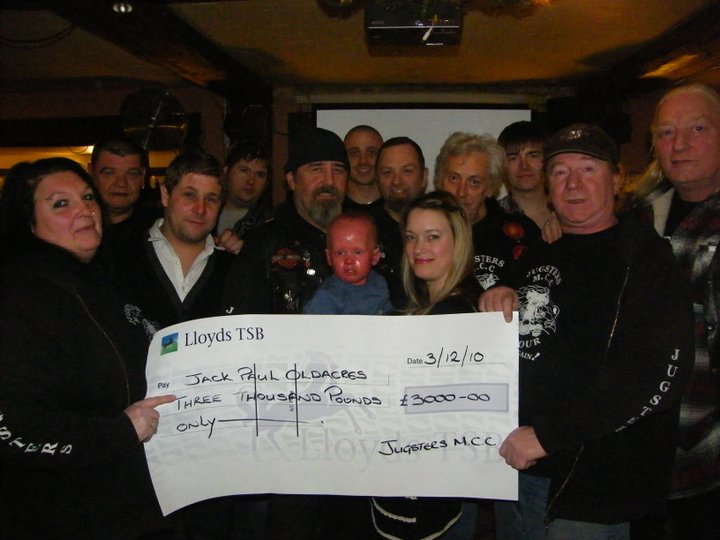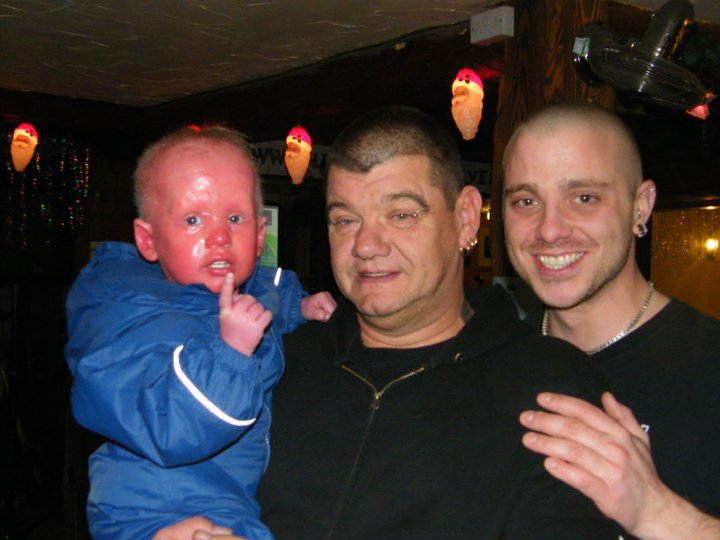 The night raised £3000 towards a much needed "wetroom" for Jack, this will help make sure that he does'nt catch any infections while cleaning his skin that he has to do twice a day.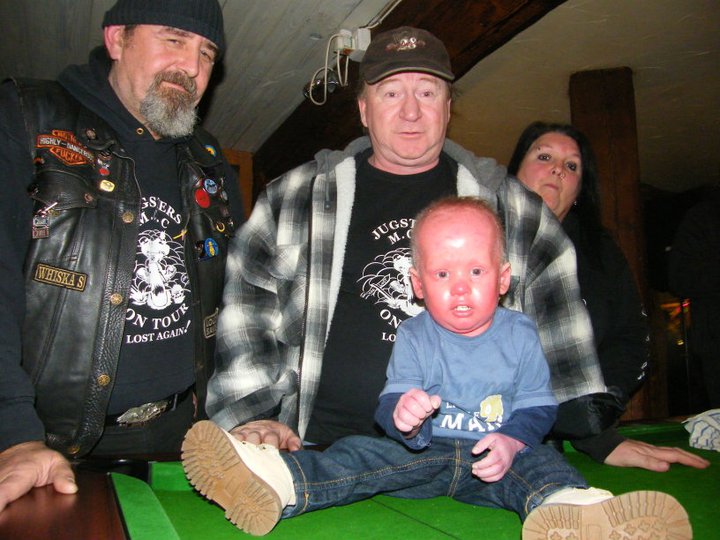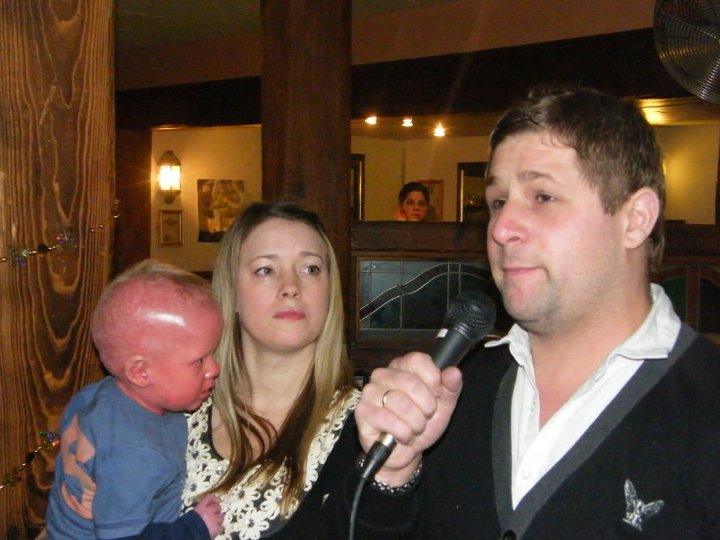 Danny, Julie and Jack would like to thank all those that attended the night and made it a fun packed night.
Jugsters MCC charity evening for Jack Oldacres 16th October
Well what a night was had by all at the Kingswood Tavern, the Jugsters sure know how to party! The night was a great success and a big thanks goes to Lita Silverwood who organised the event. With loads going on from a raffle, games, music and food it all added to a great atmosphere. To kick things off a bottle of "Jack" was up for grabs to whoever could roll a pound closest to the bottle.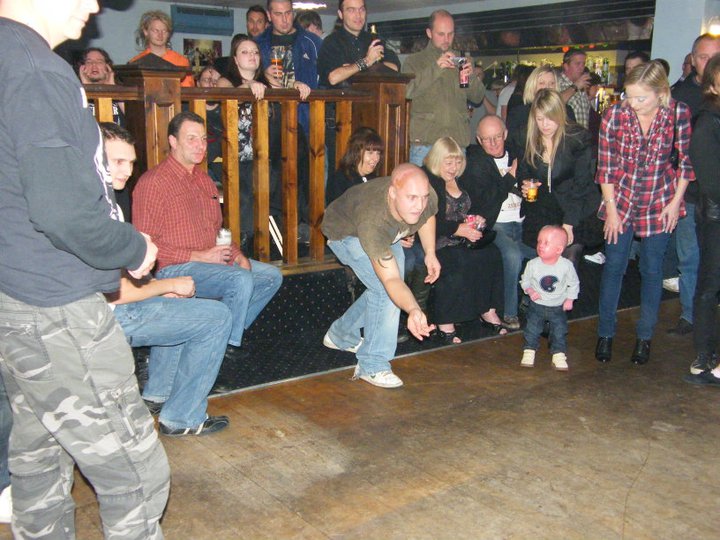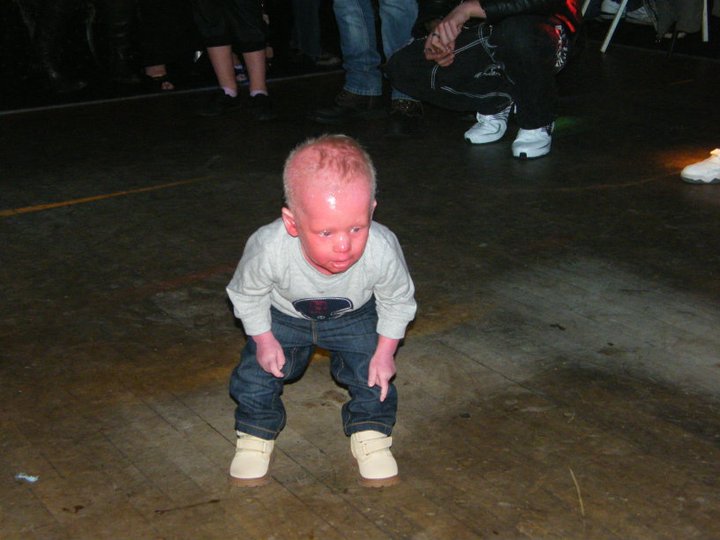 Tim Ellis the warm up act can only be described in one word "legend".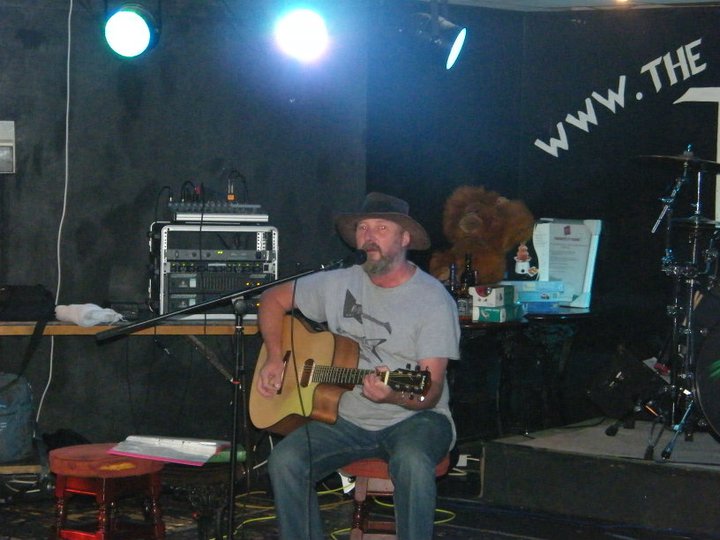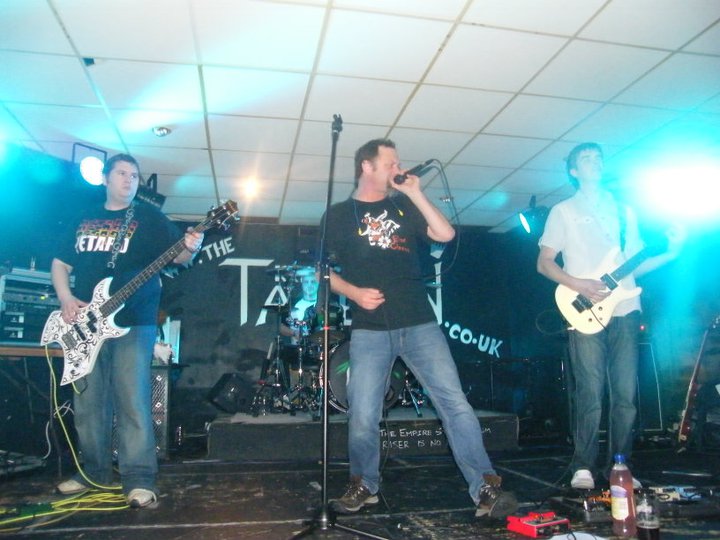 Followed superbly by Black Circus who got everyone up dancing and rock'in out! For more info on Black Circus
click here
So far the count up on the money raised is standing at over £2000 a really amazing effort from all that attended the night and gave generously to the event.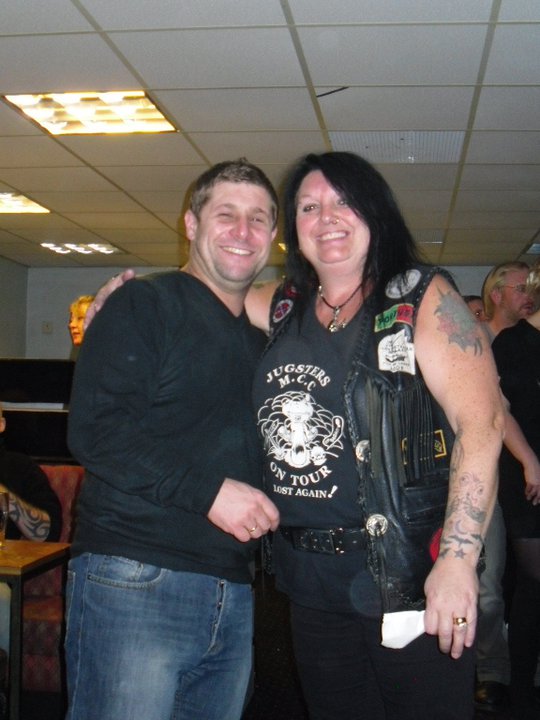 BIG BIG BIG THANKS EVERYONE who organised, came, and entertainted it was amazing.........
For more photos from the evening please go and have a look at Jayne Ellis's photos on
facebook
Barclays Bank (Walsgrave) dress down day.
Nigel Jordan who works at Barclays is sorting out donating the money from their dress down day goes towards the Netherton Syndrome Group. Once a month they all donated money to go to work non uniform. All went good at their last dress down, all the money from the dress down went into the charity pot, plus they did black-outs and other games on the day. The money is being counted up and will follow soon. Thanks everyone for supporting our cause.
10th October 2010- Leicester Half-marathon
Sean Morris has joined the fundraising efforts for Netherton's Syndrome Group
. He has completed the Leicester 1/2 marathon yesterday. All was going good till a third of the way round when he pulled a muscle in his leg and had to hobble the last 5miles.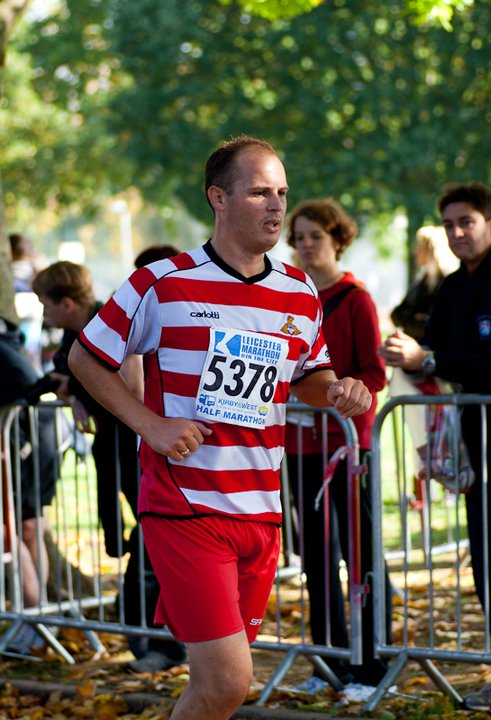 Sean finished the course in a respectable time of 2hours 28minutes, but was hoping to do a sub 2 hour run until the injury. Great work Sean and the money he raised through sponsorship and a bucket colleciton at his dads pub the Arndale in Leicester is going to be around £400.
Cheers Mate!!!!!
27th June 2010 - Coventry Fun Run- Lloyds TSB Nuneaton
Lloyds TSB Nuneaton have completed the coventry fun run and wanted to donate the money to Nethertons Research.
TSB have agreed whatever money they raise the bank will double it! Still waiting on final amount raised and will update that soon but great work from everyone at Lloyds TSB.
Nethertons Research in Canada- 10K walk....
Rebecca Davies (danny's cousin) in Canada have done a 10k walk in aid of the Netherton's Research Group. There is a blog on what they go upto on the
blog pages
.
Brandon cleans up for Nethertons Syndrome Group.
We have a superstar in our little group of friends, Brandon Starkey unknown to most of us has been into his school with his Netherton Syndrome T-shirt and done a litter-pick, but not just picking litter he has been picking the pockets of the teachers and raised over £100 for the Group.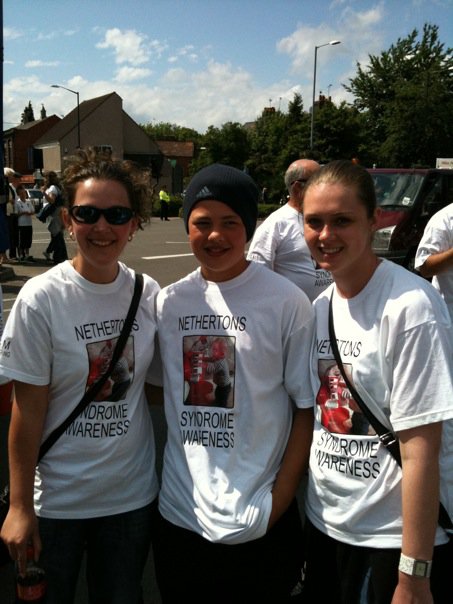 He enjoyed himself at the Carnival walk and was amazed by Jacks condition he wanted to do something himself and this is a really great effort from Brandon. Julie, Danny and Jack where over the moon when they heard what Brandon had done and so is all the Netherton syndrome Groups followers well done YOU!!!!!
Ichtyosis Support Group - Buggy Walk @ Stanwick Lakes Nothampton - 19th June 2010
Danny, Julie and Jack went to meet all the families and charity organisers at the Ichtyosis Support Group over the weekend, they organised this walk for Freddie Patenell. Kind thanks to everyone linked with
Stanwick Lakes
(I've linked their website so have a look) for letting them use the lovely park area for this walk. Everyone had a great time and met some lovely people along the way. This was the second outting for the new t-shirts aswell so more pictures and awareness of the group.

13th June 2010- Nuneaton Carnival - N ethertons Syndrome Awareness walk.
There will be about 15 off us walking with the carnival floats, Jack and the rest of us will have T-shirts kindly sponsored by D and M Engineering. This is about making people aware of the condition, no money raised will go towards netherton the collection buckets we will be going around with are for the carnival's charities. This is to promote the website and Jack's condtion to the local people. For detials on the carnival click here.
Great News, 2 more companies have put their name behind the Netherton Syndrome cause, MGM taxis and Midland Sign & Lighting LTD have donated money to help pay for flyers on carnival day. So a big thank you needs to go to these generous companies